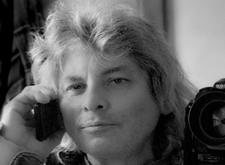 Frank Siciliano enjoys an extensive career of photographic experience
encompassing a wide range of commercial, editorial and fine art image making.
Whether on location or in the studio, alone or with a production crew,
he brings a honed eye and professional value to each project.
Having maintained studios in New York City, Los Angeles and Scottsdale, Arizona
he is now based in Las Vegas and regularly travels for assignments on either coast.
For further information please contact via e-mail CLICK HERE